We have an eye for rebates
Unlimited 5% rebate on all your purchases over 10 retail brands:

Enjoy 10% rebate
At Robinsons and/or Marks & Spencer when you spend beyond S$5,000 during the same qualifying periods (1 Jan - 30 Jun or 1 Jul - 31 Dec).
Offset shopping bills with Robs$
Every S$2 spent outside of the retail brands earns 1 Robs$.
Every S$2 spent overseas earns 3 Robs$.
Accumulate Robs$ to offset your purchases at the cashier or redeem for vouchers at Robinsons and Marks & Spencer.
• 200 Robs$ = S$1 off • 4,800 Robs$ = S$30 off

e.g.
If you spend S$8,000 at Robinsons and Marks & Spencer from 1 January to 30 June 2017, the total cash rebate you will receive is S$497.66.
Here is how it is calculated:
Amount spent
Cash rebate received

S$8,000 ÷ 1.07 = $7,476.64
(price excluding GST)

First $5,000

S$5,000 x 5% = S$250.00

Remaining S$2,476.64

S$2,476.64 x 10% = $247.66
Cash rebate will be automatically posted in your monthly statement. Cash rebate is calculated based on selling price, excluding GST. 10% cash rebate is only applicable for purchases within the same qualifying period.
Robinsons X Volvo Promotion 2019
From now till 2 December 2019, stand a chance to win a Volvo XC40 when you spend at Robinsons with your OCBC Robinsons Group Visa Card.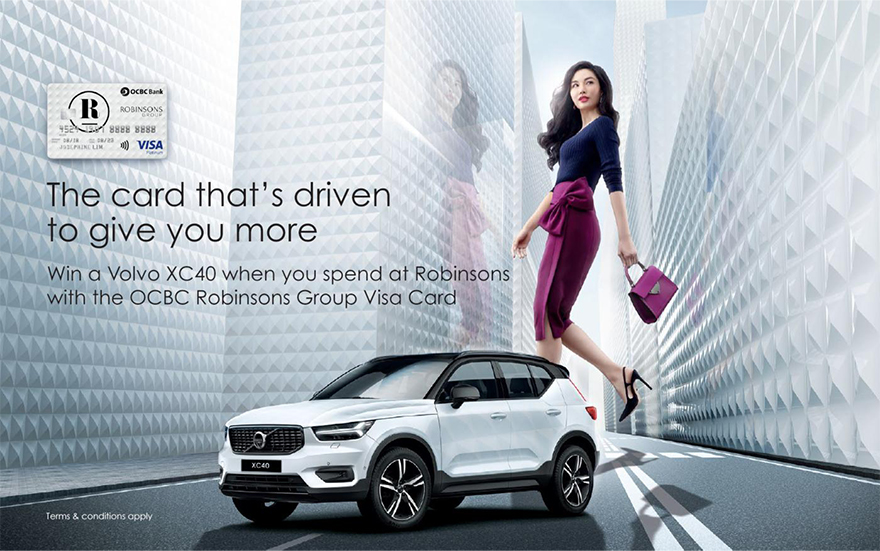 How to win?

1X CHANCE
With every S$100 spend at Robinsons

5X CHANCES
When you successfully apply for a new OCBC Robinsons Group Visa Card during promotion period
Find out more
There may be links or hyperlinks in this page which link you to websites of other third parties (the "Third Parties"). OCBC Bank hereby disclaims liability for any information, materials, products or services posted or offered on the web-site of the Third Parties.