Digital Business Dashboard
One dashboard. An easier way to run your business remotely.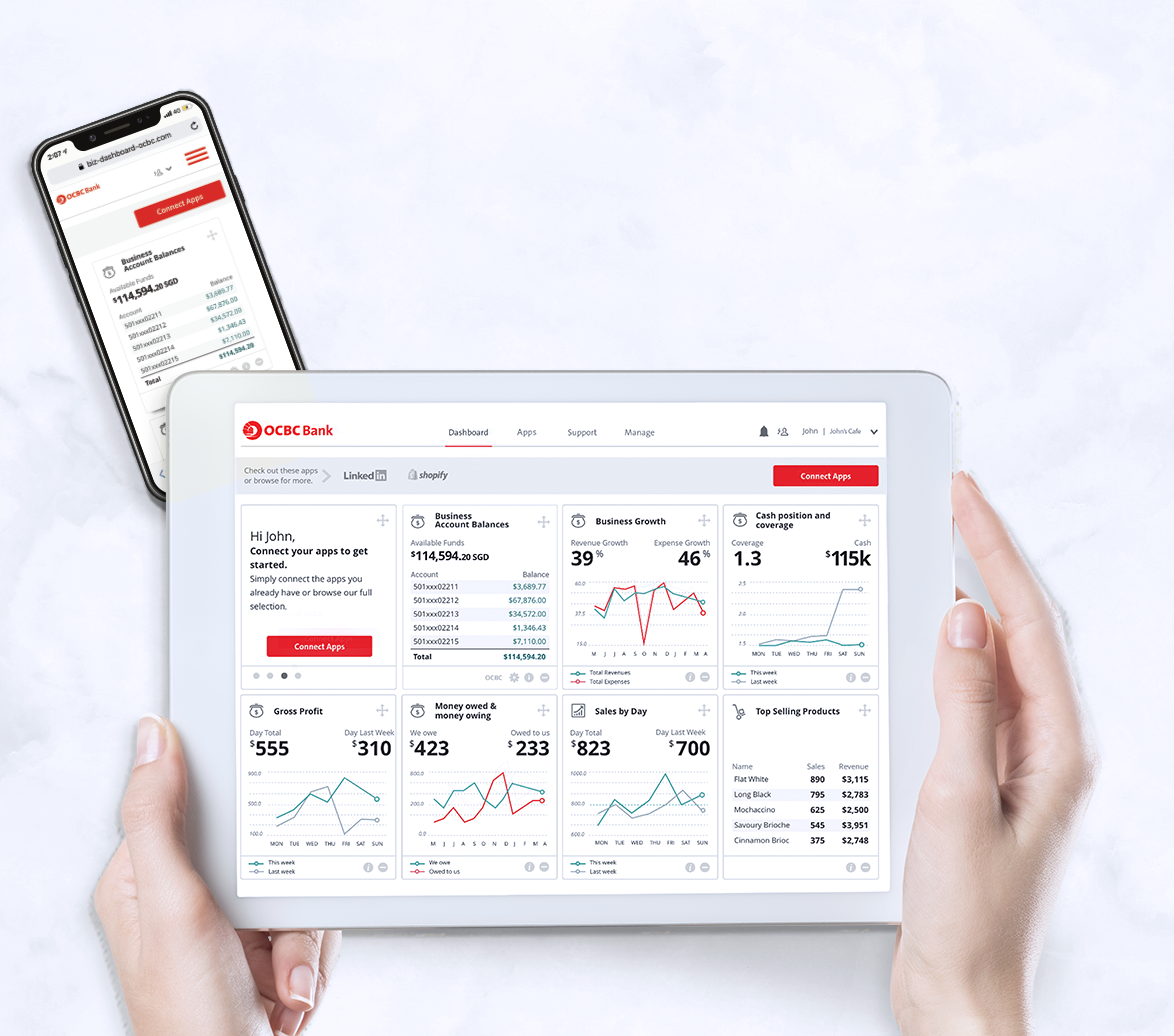 Why you will love this
Free for OCBC Business Banking customers*

Connect your business apps and see your data come to life

Works with apps like Xero, Shopify and Justlogin as part of the Start Digital Programme, an initiative by Enterprise Singapore and IMDA
Log in now
Do not have Velocity@ocbc? Apply here
Benefits for your business

Make smarter business decisions
See your business metrics such as sales, cashflow, marketing and your OCBC business account data all in one view

Save time, be more productive
Streamline your processes, no need to spend endless hours logging into multiple apps. Free up your time to focus on your business

See what matters most
An easier way to be on the same page as your team when working remotely.
Don't miss the SMEs Start Digital Programme
Supported by IMDA and Enterprise Singapore, enjoy 12 months free subscription for any 2 selected digital solutions on the Digital Business Dashboard.

Learn more
See your business in a whole new light
Find out how the smart business dashboard can help you make smarter decisions
Discover how the business dashboard can help manage and grow your business
See key information you need for your business all in one place.
Cashflow performance
Keep an eye on your cashflow by connecting your business account(s) and your business apps to your dashboard. See your money-in and money-out next to your current available funds.
Sales performance
Discover new ways to convert leads, drive sales and acquire new customers. Identify trends around customer demands and forecast future sales revenue with your daily/weekly/monthly sales and top selling product.
Marketing campaign performance
Optimise your marketing budget as you track the performance of your website traffic, email campaigns and social engagement.
Employees' productivity
See staff schedules, annual leave, and top sales staff in one place, helping you to operate more efficiently.
Explore the different apps that deliver the business metrics you need
Your Digital Business Dashboard connects to a wide range of business apps to provide a comprehensive resource for your to manage your business. The more apps you connect, the bigger the picture gets.
Accounting & Expense Management
DashBod
Debtor Daddy
Expensify
FreeAgent
Sage
Secured Signing
Spotlight Reporting
Quickbooks
Wave
Xero
Sales and Inventory
Big Commerce
Cin7
Livechat
Paypal
Shopify
TradeGecko
Unleashed
Vend
Zendesk
Marketing
Campaign Monitor
Capsule
Copper
Exsalerate
Facebook
Google Analytics
Instagram
LinkedIn
MailChimp
Marsello
Perkville
Twitter
Weebly
Wix
Human Resources
Acuity Scheduling
BambooHR
Box
Business Sorter
Deputy
JustLogin
Office365
SuiteBox
Talenox
When I Work
Workflow Max
Workplace by Facebook
Wrike
Terms & Conditions
* Digital Business Dashboard is only available to Velocity@ocbc users under the Standard and Classic package.
Business Account Terms and Conditions apply for Digital Business Dashboard. Please view here for more information.
Third Party Platform
The platform you are accessing or about to access (the "Platform") is provided by a separate external third party service provider ("9 Spokes") and OCBC makes no representations or warranties in respect of the Platform. By accessing the Platform, you are acknowledging that the Platform is provided by 9 Spokes on an "as is", "as available" basis. OCBC shall in no event be liable for any damage, loss or expense including without limitation, direct, indirect, special, or consequential damage, or economic loss arising from or in connection with any access, use or the inability to access or use of the Platform, or any reliance on the contents of the Platform.
OCBC shall not be liable for any errors or delays in any information or data obtained or found in the Platform (the "Data"), or for any actions taken in reliance thereon. You understand and agree that you will use the Data at your own discretion and risk and that you will be solely responsible for any damages that arise from your use of the Data.
Third party apps
All apps offered for sale/download on the Platform are sold/provided by external third party apps providers (the "External Third Party Providers") as indicated on the specific apps listing on the Platform (the "Apps"), and not OCBC. The External Third Party Providers are not related to OCBC in anyway whatsoever and OCBC has no control over any of such External Third Party Providers. OCBC neither endorses nor assumes any responsibility or liability arising in connection with any Apps purchased/downloaded from the Platform. OCBC shall not be responsible for the quality, merchantability or the fitness for any purpose of any Apps purchased/downloaded from the Platform. The Apps and the purchase and download of such Apps shall be governed by and subject to such terms and conditions as may be prescribed by the relevant External Third Party Providers and you are advised to review and understand such terms and conditions prior to you purchasing/downloading any such Apps.
The Digital Business Dashboard is compatible with Microsoft Edge, Chrome, Firefox and Safari only.