OCBC 2Y Fixed Rate
Protects you from rate fluctuations for the first 2 years
Pegged to OCBC mortgage board rate (bank managed rate) from Year 3
OCBC mortgage board rates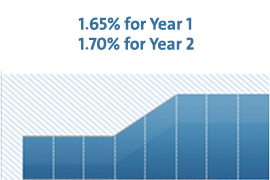 Bank-managed rates and the bank can revise the values at anytime by giving you 30 days' notice
In OCBC, mortgage board rates are defined for specific pricing packages. Should the mortgage board rate on your account be increased, you will have the flexibility to switch to another OCBC pricing package at no cost.
The current mortgage board rate pricing packages are availed with mortgage board rates at 1.55%.
You have the flexibility to prepay up to 50% of the loan amount within the lock-in period.