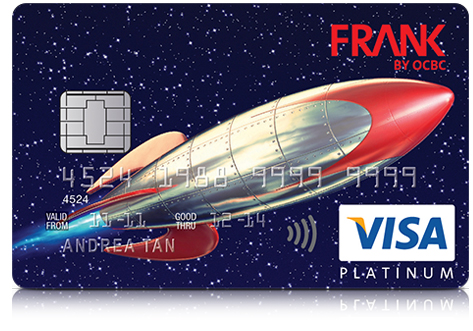 Enjoy 6% rebates on your online purchases and unlimited 0.5% rebates on all other purchases with the FRANK Credit Card.
How it works
Spend at least S$500 a month on your card
Spend less than S$500 a month on your card

6% rebates
When you've earned S$60 rebates a month, you are still entitled to get unlimited 0.5% rebates
Online retail transactions are defined as goods or services you buy via the internet and pay with your FRANK Credit Card. These transactions are excluded from the calculation of cash rebates: purchases made via telephone or mail order; bill payments (online mobile bill payment to Singtel, Starhub and M1 are eligible); recurring payments for mobile, telephone, cable, insurance, utility bills or income tax; donations; payments using internet banking; annual card fees; Instalment Payment Plans; Cashwise facility, Cash Advances and Balance Transfers; Goods and Services tax; fees and charges such as interest and late payment charges.
Click here for common websites that you can earn rebates on (do note that this is not exhaustive).

Terms and Conditions apply

Sign up for the FRANK Credit Card and spend S$800 or more on the FRANK Credit Card within the first month of approval to receive a 20" FRANK luggage. Limited to first 1,000 new sign-ups per quarter.
Terms and Conditions apply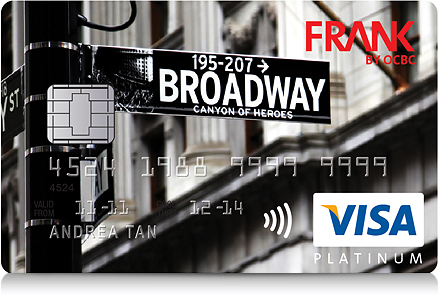 Receive further discounts when you shop at FRANK special partners
Discover more FRANK deals

Choose from over 120 card designs with card design fees waived
Receive a new exclusive design when you apply for the FRANK Credit Card online
View card gallery

Tap & pay with NETS FlashPay in buses, trains, taxis and at over 40,000 retail outlets
Pay at selected upgraded car parks and ERP gantries via second-generation in-vehicle unit

Age/Income Requirement
You must be aged 21 and above with an annual income of S$30,000 and above to apply.
Card Design Fee
S$0-S$50 depending on card design. Card design fees are waived.
Annual Fee
S$32.10

(2 years waived for Principal and Supplementary Cards)

. A minimum of S$6,000 annual Visa spend is required for subsequent annual fee waiver.
Card Replacement Fee
S$30 plus card design fee
Nets FlashPay
Top-up Fee

S$50 (top-up value)
S$0.25 per automatic top-up (waived till 30 Sept 2013)

View full list of fees & charges.

Sign up for the FRANK Credit Card online and receive this new exclusive card design.
If you wish to apply for another FRANK card design, please choose from the FRANK Card Gallery, download the form and mail it back to us.